Here's our secret to AM-A-ZING performance improvements (in any organisation, in any sector) ….
We build our development programmes to deliver "outcomes" not "content" (i.e. a 25% increase in sales revenues, a 30% increase in profits, customer loyalty improving by 22%, employee engagement above 80%, etc…)
We cover "content" brilliantly according to our clients – but only the content required to change the behaviour of the people involved who deliver the outcomes
We only cover content once we've skillfully moved people out of their "Comfort" and "Doubts and Fear" zones and into their "Learning" and "Growth" zones. Without doing this, the best "content" in the world is wasted … behaviour 

will not

change, and performance 

can not

improve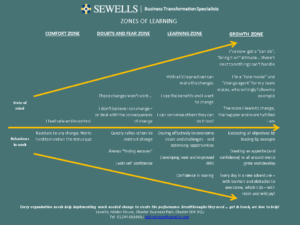 Once we move people into the "Learning" and "Growth" zones, new, winning behaviours are willingly adopted, confidence and competence soar – and new levels of sustainable performance are inevitable
We, at Sewells, have mastered this so you, our clients and prospective clients, can be guaranteed to see the results you need and want
We encourage our clients to "hold us to account" and benchmark the results they have actually achieved against what they said they wanted. We insist on this because we've never failed to help positively transform our clients' business performance in excess of the pre-agreed objectives (and we'd like to maintain this record!)
Here are some outcomes our clients have reported to us: –
"The Sewells effect has had a huge impact on the sales floor and has given us a massive infusion of confidence and belief.  It has changed attitudes beyond what we thought possible.  Every single day, what Sewells have done has increased revenues by 31% and profits by 39%."   
"We went from bottom ten (out of a league of 200) to top three in terms of Customer Satisfaction Index (CSI) within just six months!"  
"Trying to change the way our retail outlets operated without first changing the way they think we found out was as costly, as it was futile. Once Sewells moved in and "weaved their magic" … sales through the network increased by over 100% in four years while the overall market remained stagnant."  
If you'd like to experience similarly AM-A-ZING results simply contact us now,  or click the  button below, to set up a meeting.Tell us the problems you have but don't want, and the results you want and don't have and we will create a bespoke development programme which will help you eradicate the first, and achieve the second.