If you're looking for record results in 2019 and performance improvements from all areas of the organisation … look no further than developing your managers and leaders to be able to unlock the passion in your people.
Passion, when unlocked in people, becomes an unstoppable force that drives creativity, creates a determination to succeed (and do whatever it takes to do so), engenders open and effective communication and develops high levels of accountability and a deep sense of personal responsibility to deliver beyond expectations.
Without passion, organisational cultures can be stale and, dare we say it, quite toxic (even  though the results achieved can be acceptable).
With passion, organisational  cultures are vibrant and energetic where the status quo is being positively challenged the whole time and improvements and streamlining of systems and processes become daily doings, not random events.
Team spirit soars – and it becomes like a magnet to attract and retain high calibre staff.  The  concept of customer centricity becomes alive and highly energised and begins to drive everything you do (rather than it being a tired old "strategic pillar" that means very little in practical terms to anyone) – and now a customer's loyalty is EARNED by your people's attitudes and behaviours – and repeat business, referrals and recommendations to use your products and services are freely given!
Our top "how  to do it" takeaway …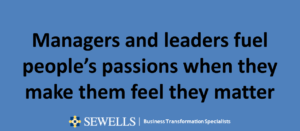 You needn't take our word for it …here are some of our clients' experiences ….
A global organisation in the engineering sector reported a 164% increase in productivity in just 18 months
Another global organisation, this time in the manufacturing sector, exceeded their annual target by 12% after years of hitting 'glass ceiling' for targets
One of our financial services sector clients reported an increase in turnover from £245M to £320M
The performance improvements that occur as a result of developing managers and leaders to master the art of igniting passion are AM-A-ZING.  Let's get together for a chat about the performance improvements YOU could expect by working with us at Sewells.
You just need to click here, or on the button below, to set up a meeting.  We say it will be the most powerful and profitable 90 minutes you've experienced in years … get in touch and put us to the test!