We've just concluded a meeting with a client we've been working with .. we ran a bespoke management development programme for them.
Sales in Q3 this year over last year – yes, even with the Covid-19 goings on – are up over 30% and profits are up over 51%.
The route to market has changed somewhat, the competitors are as ferocious as ever, the people in the business are the same although working from home has become the norm – and the transformation programme is nearing completion.  Like all organisations, they've had to adapt quickly to these rapidly changing times … but the managers are excellent at motivating,  inspiring and leading their teams, and landing the endless changes brilliantly.
Gallup's empirical research shows why performance variations are so wide in organisations .. and yes, it comes down to the quality of the managers and their day-to-day excellence in management techniques, especially as new business models, processes or operations are introduced.
Most people have the talent to become great managers – but they never get shown to be one in practice!
There are 5 basic talents great managers in times of great change have.  Click below to read them.
(click on the image to enlarge)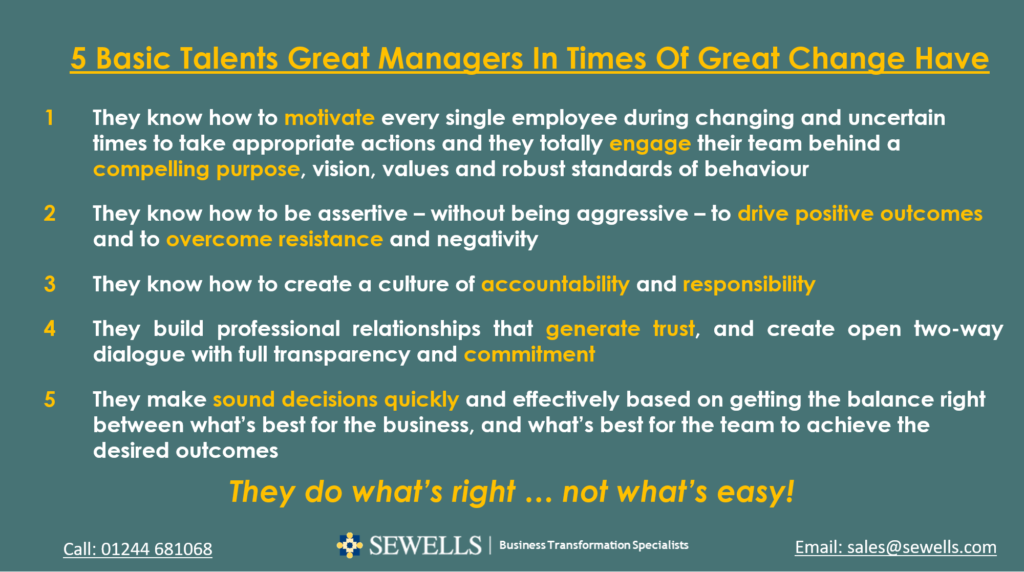 How do your managers measure up?
If you want them to become 'ninja-level' great managers, we can work with you to create a bespoke management development programme tailor-made just for your business!
How would reporting a 30% turnover increase and a 51% profit increase go down within your senior leadership team meeting?
We all know the answer!
If you want to know how we can help you create similar results, contact us now to schedule a call and let us take you through the steps.
Use Lockdown Mark 2 productively – invest the time now, to make 2021 your best year ever!