Now, what outcomes do you want to see?
Whether you're looking to eradicate team team dysfunction, achieve amazing levels of customer service or find the secret to making more profitable sales …. the business improvement you're looking for is very much within your reach.
We provide the best-designed, most reliable business improvement solutions at competitive value for money prices. Our track record in terms of improved results and customer endorsements is second to none.
Click here to take a look at Sewells' most popular business improvement services, the ones our customers value the most.
Whatever the business improvement YOU want to see, SEWELLS has the ability to bespoke a structured programme to exceed all your expectations.
We know this because we've been doing this for over 54 years and we've never failed to exceed pre-agreed improvement objectives … EVER!
After working with Sewells, a customer in the automotive industry said, "We've made more in 6 months than what we made in our best year ever!"
Another organisation who we began working with in September 2016 increased sales by 74% in the first quarter of 2017 (the market was up 14%)
Another customer shared the following with us: "Our recent research shows that, six months after Sewells' leadership skills training, 83% of employees are still engaged, that's proof this "stuff" really does work!"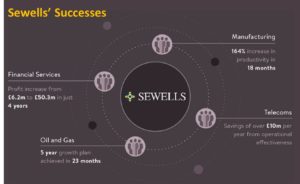 Don't you think it's time your organisation experienced the business growth you've been searching for?
Simply get in touch on tellmemore@sewells.com to arrange a free, no-obligation strategy session and let Sewells take your business to the next level.