Recent research has shown the following (click on the picture to enlarge):-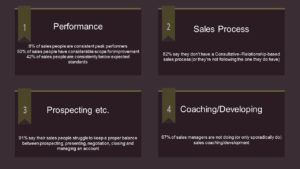 How do you compare? Are you that different?
These research findings show that sales performance is not being optimised.
However, while the above are BIG barriers to optimal performance … the BIGGEST barriers are not in processes, systems and resources … they are in the mind-sets and attitudes of the sales people and sales managers themselves.
Knowledge and skills are important – but tenacity, determination, persistence, likeability, confidence, belief, grit etc. are more important.
For example, the research also shows that with one company … it took their best sales people an average of 3 visits and 5 follow-up calls to convert a prospect into a client.  The average performers only visited prospects twice and only one follow-up call.
It cost them millions in wasted sales effort and lost sales opportunities.
Another company showed that clients buy after 5 "no's" … yet 44% of salespeople give up after the first "no", 22% after the second, and 14% after the third!
We, at Sewells, have an unrivalled reputation and track record of transforming performance in sales departments.
Two recent clients experienced the following results:-
In 18 months our UK client of a global organisation improved market share from 5.5% to 9.6% (a 74% increase)
522 new clients came on board (previous 18 months it was 32)
Additional "value-added" products and services taken advantage of by clients went from below 30% to over 65%
Customer satisfaction moved from 71% to 89%
If you want to find out more about our approach, request your FREE report which will divulge The Secret to Making More (Profitable) Sales. 
And if you want to achieve similar results, click below and book your free, strictly no obligation confidential session (duration 90 minutes) with one of our capable team … the findings are always breath-taking so we'll look forward to helping you soon.