Sewells has been helping businesses, teams and individuals grow and develop through the good times – and not so good times – for over 56 years.
However, tomorrow is the 30th anniversary of our Chairman and owner, Dr. William Holden, taking over the running of the business – and what a 30 years it has been!
We asked Will what were the key things he did to transform it from a skills-based training company to a global leader in enabling positive change for individuals, teams and organisations.
With his typical honesty and candour, he said it was down to a number of key elements which have now become the Sewells philosophy. Over the month of July, we are going to run a series explaining what these key elements are, and why they work to produce breath-taking performance improvements for our clients.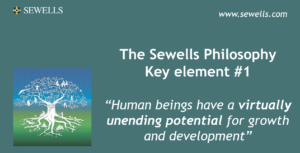 This is the first key element, and is the bedrock of all our work: the absolute belief we all, in Sewells, have that there is almost nothing that we, as human beings, cannot achieve when we put our minds to it.
We still today start almost every workshop we run by asking delegates a simple question, "Do you all feel that you've got some unused potential locked away inside, just bursting to get out if you knew what buttons to press?"
Never, in 30 years, has anyone said "no" to that question! Never!!
We follow up with another question, "Do you all feel that the people that you work with, live with and play with have got some unused potential locked away inside just bursting to get out if they knew what buttons to press?"
We then begin to show them what buttons to press in order to release that potential (firstly in themselves and then in others) and for them to fuel the motivation, desire and determination to be able to achieve things – personally and professionally – they never thought possible.
Experiencing our world class, simple, practical content across any of our "enabling positive change" specialisms turns this into rocket fuel for learning and skills development and makes application easy when transferred into the workplace.
(Click to enlarge and download)
We all, in Sewells, think this is the most uplifting and fulfilling work imaginable – and we've done it for hundreds of thousands of people over the years … and we'll continue to do so.
This is one of the key building blocks upon which the success of Sewells is built. This, together with our obsession for exceeding our clients' expectations – hard and soft – always working in a spirit of true partnership and being easy to deal with are our hallmarks.
Will and the whole team at Sewells would like to thank all the people who over the 30 years have trusted us to develop and improve themselves, their people, teams and organisations.
It's been a joy, it's been an honour and it's been a privilege.
The good news is that the essence of our purpose, which is "To make a positive, measurable, tangible difference to every individual and organisation we have the privilege to serve" is firmly embedded in our DNA.
Here's to next 30 years!
Three cheers!