We have had an unbelievable response to last week's inspirational email flagging 30 years since Dr. Will Holden took over the running of Sewells.
Thank you for your messages of congratulations and best wishes for the future …they warmed the cockles of our hearts.
Following on from last week's email (click here to view), the second of the key elements that Will said he did to transform Sewells into a global leader in enabling positive change was: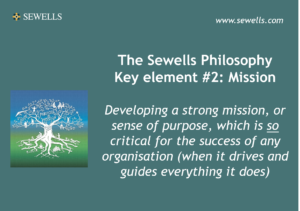 (click to enlarge)
The mission, or purpose, is effectively answering the question, "Why do we exist?". Taking the lessons from people like Steve Jobs at Apple, the answer to that question simply cannot be just to make money. As Jobs said, "As a commercial organisation, making money should be a byproduct of why you exist, and what you do".
Other top business leaders in the 1980's also helped shape the creation of the Sewells mission, or purpose. Jan Carlzon, who was CEO of Scandinavian Airlines Systems (SAS), and transformed it from a nondescript national carrier to the number one business airline in the world, suggested it should be customer focused (as they pay all the bills including everyone's salaries!).
He also suggested it should be communicated in a way that percolates into the DNA of everyone in the organisation so the absolute clarity it gives is seen in every area of operation through the right attitudes and behaviours.
He summed up the difference before and after the mission was established: "What I discovered was that just about everybody thought our business was flying aeroplanes and almost no one thought it was about flying people!"
That insight started them on their incredible turnaround.
So, within a year of taking over the running of Sewells, Will and the team had devised the reason we, as an organisation, exist. We review it annually – and we find that it's still relevant and fit for purpose today.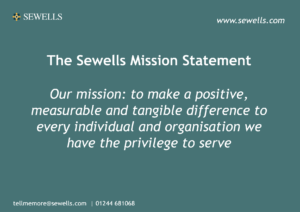 This is why we exist, this is what we all, at Sewells, get out of bed for every day. It's helped us become the business we are today – and our Net Promoter Score (NPS) in 2019 of +90 says we're definitely delivering on it.
It means we work in a spirit of true partnership with our customers to agree the outcomes they'd like to see from any work we do. We then use our considerable expertise and experience to achieve or exceed their expectations.
94% of our clients said they were very satisfied or satisfied that we delivered on what was promised.
It also means that we don't just deliver an enjoyable developmental experience … we deliver the solutions and outcomes our clients want and need.
Our mission has helped our business become world class, financially sustainable, with "raving fans" for clients and with a reputation that money can't buy.
We can and do achieve the same for our clients.
Again, can we say a huge "thank you" for all the kind comments and the way you've trusted us, at Sewells, to partner with you to deliver the improvements in performance and results you wanted to see.
Over the 30 years Will has been at the helm, there have been many setbacks and disappointments. There have also been those who have not behaved in the way we, as a values-driven team, would have expected or wanted.
As with all experiences, some of the negative ones have proved to be some of the strongest and most positive – and they've played a major part in making Sewells the organisation it is today.
Whilst they were painful experiences, and made us think seriously about our whole business philosophy, not once did they derail our utter and complete belief in the brilliance that lies inside every human being and our total dedication to helping people find it within themselves so that they can release it and achieve amazing things – personally and professionally.
We look forward to continuing to be of service in the future.