Now that the world is slowly getting back to work, and the new reality is emerging, it's time to turn our attention in our businesses to how you can capitalise on the new market conditions.
You will need a strong and robust launch pad in order to get a jump on the competition and take some of this market share.
One thing to honestly consider is whether the mission / vision you had going into lockdown will be fit for purpose to accelerate your way out of it.
The reason?
Most organisations these days have a mission statement, few have people who are all fully aligned behind, and fully engaged with, that mission.
It's critical that your mission statement has the power to win all your people's hearts and minds to the cause and ignite their passion to give their best day in, day out!
Why? Because you'll need it to get through the tough times ahead – and, let's face it, they're going to be tougher than any of us can imagine just now.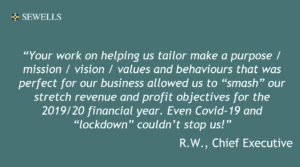 Click to enlarge
All your people will need to see the picture for the future you want so they can believe in it – and live, eat and breathe it in all their behaviours. If they can't, or don't, they'll never be able to give their best on a long term basis.
So, if you've ever tried doing a jigsaw (puzzle) without the lid, you'll know it's really hard – and very easy for the people involved to lose interest because they can't see clearly what the end result will look like.
When the time is right, we're here to help guide you to redefine your purpose, mission, vision, values and behaviours … and make them relevant for the new reality. And, more importantly, we'll show you and your managers how to communicate them in a way that gets everyone to perform at levels never seen before, just when you need it most!
We'll be making it easier than ever to "smash it out of the park" on your return to work.
Just click on the button below to register your details to schedule a meeting, a zoom or Skype call, or no obligation telephone discussion to whet your appetite as to how this will transform your team spirit and results.
You'll be automatically entered into a prize draw where one lucky winner will win this work being done completely free of charge (worth up to £15,000)!

Click on image to enter prize draw