Thank you for a terrific response from so many of you to our survey last week.
Now that work is moving towards a new reality and you've all been dealing with it the best you can, we asked you to list your top three requirements for help to move the organisation forward as surely and quickly as possible.
You've given us some priceless insights to share with everyone.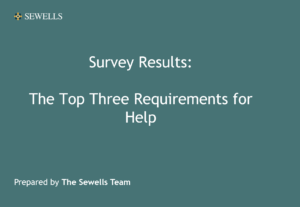 (click image to download survey results)
If you relate to any of these, we suggest we have a "no obligation" discussion sooner rather than later. At Sewells, we are now easing our way back from hibernation, and are expecting to have the whole team back full time from October.
Demand for our special brand of positive motivational leadership and successful change "magic" is beginning to build, so don't leave it too late to talk about getting some help from the best in the business.
Remember the surfers' advice: If you want to catch a good wave, you got to start paddling early!
We look forward to hearing from you.