The very term "managing change" suggests the approaches most organisations take are inherently wrong.
It infers it's a tug of war.
It implies people are being "dragged through the hedges" kicking and screaming … and all too often that's what happens.
Staff are frustrated that managers don't lead the change, they just "issue instructions"  –   and managers are frustrated that staff don't embrace change, they just "resist" it … RESULT? Nothing, or very little, changes at all!
Does this sound familiar? Of course it does!
So how can we take a different approach, where inspiring managers are leading the change by motivating staff to being "willing volunteers" towards creating a better and sustainable future (i.e not just fixing the past)?
Firstly, let's stop calling it "change" – the very word terrifies people – let's call it improvement.  No one wants to change – and everyone wants to improve!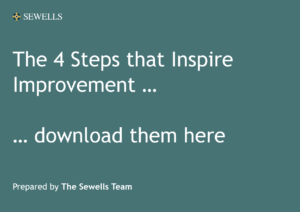 Being able to inspire people to be improvement and change ready is probably your organisation's biggest competitive advantage.
Anticipating the improvements required for a better and more sustainable future, faster and more effectively than any of your competitors, will leave them miles behind.
It's not a nice to do, it's a need to do!
Don't take any risks with how you approach change, see how Sewells can help you in achieving everything you know you and your team are capable of … just like we have for so many others …
A leading company in the financial services sector reported a 68% sales increase year on year and – crucially – because of  the genuine and professional relationship we helped them establish with their clients, the company was able to drive consistent and profitable growth, long after the programme had ended
Another financial services client saw profits rise from £6.2 million to £50.3 million in just 4 years and employee turnover decrease by 46% in the year following their work with us – which saved the company over £2 million
A third company, this time in the manufacturing sector, in the first year reported a 20% increase in profits, in year two profits increased by a further 25% and employee engagement scores "improved off the scale"
Call us today us on 01244 681068 or email us at tellmemore@sewells.com and you too could achieve similar results … you'll be glad you did!
Yours enthusiastically