So, what's the secret to making more (profitable) sales?
It's AARDER that will make it easier …
A = Attitude: Developing an expectant and positive attitude and an infectious enthusiasm is the foundation from which everything else flows. Without it sales people and sales managers should stay at home.
A = Actions: Consistent and effective actions are required to maximise the chances of success – and they are a consequence of the right attitude that fuels the required discipline to get the right results.
R = Resilience: Never, ever, ever give up! Customers today need 6 to 8 times more contact than they used to need before they buy.
D = Do what you promise: send the information you said you would. Call back when you promised. Go the extra mile down the sales road (it's not crowded there)!
E = Enthusiasm: nothing kills a sale faster than a lack of enthusiasm. If a salesperson isn't enthusiastic, how do we expect customers to be?
R = Results: they don't happen by accident. Look at the "sales funnel" and learn how to improve the ratios that generate sales, grow margin and customer satisfaction and loyalty.
The top performing sales people take 100% responsibility for their results. The others will blame everyone and everything else for their lack of them.
At Sewells, we know how to drive significant improvements in performance in any business – just look at some of the results we've helped produce for customers …
An organisation in the retail automotive sector saw their sales increase 20%, in a market down by 4%
Another organisation in a hugely competitive manufacturing sector reported a 148% increase in sales
After our work with an organisation in financial services, they've seen a 35% uplift in sales in a flat market, the margin has increased – and their Net Promoter Score has gone up 30 points (they're now in the "world class" category)
We can help you to supercharge every aspect of your sales, too.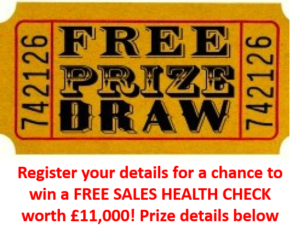 Find out the "missing ingredient" your sales people need to guarantee you hit your 2020 targets … Register to win a sales health check worth over £11,000! *
The package comprises:
3 days of strictly private and confidential one-on-one diagnostic interviews with key people, who you will chose
2 days of analysis of the interviews – the results of your sales health check
1 day of report writing to bring it all together A diagnostic feedback session with you (and whoever else you'd like to involve) to hear, examine and talk through the results – your 'prognosis' and bespoke 'treatment plan'!
The results gathered will help guarantee your business will hit its targets in 2020 … and much more!
If you'd like to register for your chance to win this incredible package at absolutely NO COST to you, register here and we will place your name in the hat!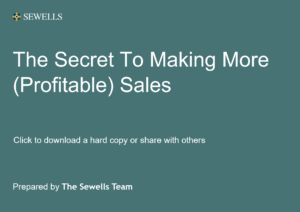 *terms and conditions: your company must employ at last 50 people and you must be director level, or someone in a decision-making position.  For full T&Cs contact Sewells