Recently, a Sales Director asked us for some advice about improving her company's sales volumes, margins and customer experience and retention. They had robust sales processes, their sales managers were good at coaching, mentoring and supporting their salespeople, and their salespeople themselves were meeting lots of prospective clients.
They were reaching their sales targets but really only just; she felt they should really be smashing them, given all the processes they had in place.
How Sewells helped
First and foremost, we applaud this Sales Director for using a sales process. Without a process, sales people would probably "wing it" with every opportunity – and the sales leader would have no mechanism to gauge or manage – let alone optimise – performance on a consistent basis.
That said, if what she was saying was an accurate description of what was really happening … there shouldn't be much more improvement to be had!
We suggested that we conduct some in-depth, strictly private and confidential diagnostic interviews with the team as well as some "riding shotgun" exercises (i.e. going on some appointments with them), to get an understanding of what was happening in practice.
We discovered that, whilst almost all the salespeople interviewed knew the company's sales processes and techniques, the issue was they didn't always follow them. When we asked them why, "because they don't work in the real world," most replied.
And there you have it … the biggest barrier BY FAR to implementing and embedding business-critical change has nothing to do with the systems, processes, resources or pricing and everything to do with the mindsets and attitudes of the people involved.
The best sales development in the world won't make any difference at all if the salespeople's attitudes and mindsets aren't changed, deeply and fundamentally, first.
We, at Sewells, know how to do this and this is why the improvements we help clients produce are second to none in terms of scale and sustainability. For instance:
After 4 years of hitting 'glass ceiling', a client in the manufacturing sector experienced a 12% increase in profits, smashing through their performance target for the first time
A client in the financial services sector enjoyed turnover percentage increases of 75% in Year 1, 43% in Year 2 and 83% in Year 3
Another, this time in the engineering industry, increased profits to £600k, £1.2m and then £3m … after breaking even in previous years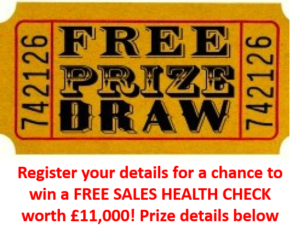 Find out your "missing ingredients" you need to guarantee you not only hit your targets but also smash them! Register to win a sales health check worth over £11,000! *
This is the second chance to enter the draw … it is a time limited offer, so please don't miss out – register today and be in with a chance of winning!
The package comprises:
3 days of strictly private and confidential one-on-one diagnostic interviews with key people, who you will chose
2 days of analysis of the interviews – the results of your sales health check
1 day of report writing to bring it all together and a diagnostic feedback session with you (and whoever else you'd like to involve) to examine and talk through the results – your 'prognosis' and bespoke 'treatment plan'!
The results gathered will help guarantee your business will hit its targets … and much more!
If you'd like to register for your chance to win this incredible package at absolutely NO COST to you, register here and we will place your name in the hat!
Good luck!
* terms & conditions apply.  To be eligible for the prize draw:-
Your company must employ at least 50 people
You must be director level, or someone in a decision-making position