So, what are the biggest problems our clients face in their quest for consistent sales growth?
Lack of sustainable sales?
Squeezing of margins?
Customer retention / loyalty?
Lack of an effective CRM system?
Crowded and competitive marketplace?
Retention of sales people?
Price of product or service too high?
It could be any or all of these – as well as a lack of leads, poor and inconsistent pipeline, not following the sales process or not applying the sales techniques.
No matter what, or how numerous they may be, we have tried and tested solutions for every problem imaginable.
The results these solutions deliver for our clients are significant:
Sales volumes up 58% in a market only slightly up (and margins improved by 26%)
A "value-added" product line increased sales by 252% (in a market up 40%)
A "stretching" 5 year sales & profit plan achieved in 23 months
Our tried and tested approach always delivers amazing improvements in performance and results because we address the biggest barriers that prevent sales optimisation.
We've put together an indicative, but not exhaustive, list of some of the biggest barriers for you to download. Click on the button below and have a read.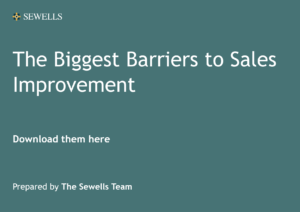 If you recognise any of these in your sales teams please get in touch because Sewells can help! Or why not enter this month's prize draw … especially as it's a time limited offer and won't be available for long.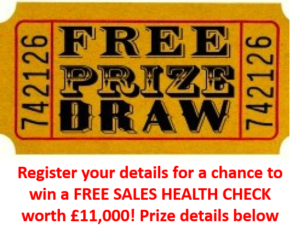 Find out the "missing ingredient" your sales people need to guarantee you not only hit your targets in 2020, but also smash them!
The prize draw*  package comprises:
3 days of strictly private and confidential one-on-one diagnostic interviews with key people, who you will chose
2 days of analysis of the interviews – the results of your sales health check
1 day of report writing to bring it all together and a diagnostic feedback session with you (and whoever else you'd like to involve) to examine and talk through the results – your 'prognosis' and bespoke 'treatment plan'!
The results gathered will help guarantee your business will hit its targets in 2020 … and much more!
If you'd like to register for your chance to win this incredible package at absolutely NO COST to you, register here and we will place your name in the hat!
* terms & conditions apply. To be eligible for the prize draw:-
Your company must employ at least 50 people
You must be director level, or someone in a decision-making position