Customer expectations continue to climb and it is becoming more and more challenging for companies to set themselves apart from the competition. Markets are increasingly crowded, and both price and product are being steadily overtaken by customer experience as the number one brand differentiator.
Customer service excellence is about more than simply solving customer queries… it should be an integral part of your customer acquisition and retention strategy. It can also make or break your brand. Every interaction provides an opportunity to transform negative experiences into positive outcomes and to create brand champions.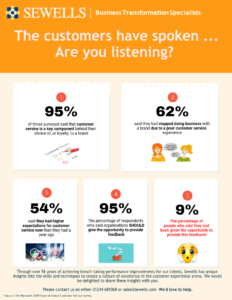 (click on image to enlarge)
To get ahead and stay ahead, modern businesses of every size and in every sector must learn to become totally customer-centric organisations, where the customer sits at the heart of everything they do and every decision they make.
It requires a paradigm-shift to build the kind of organisation where everyone understands and embraces the notion that the customer truly comes first, where staff at every level continually seek opportunities to enhance the customer experience and are empowered to act. This is specialist work. It's about winning hearts and minds in a way that enables attitudes and behaviours to automatically follow to smash all your KPIs.
A Sewells customer centric-based business improvement programme is what it takes to set yourself apart from the competitors, to win as many new customers as you can handle and tie them into you for a lifetime … and you'll come to realise that price isn't as important as some of your people make it out to be.
Customer Service excellence cannot be mandated and has very little to do with processes, systems and procedures. It's an attitude, mind-set and passion that exists in your people and sits at the very heart of everything you do.
You'll need specialist help to get there, and it will transform your business and it will be worth it beyond your wildest dreams! Look at the outcomes we've help our clients achieve:
One client in the automotive sector reported a £19 million increase in profits in just 24 months following their work with us, and we helped them move from the bottom of a customer satisfaction survey (in a league of 200) to the top 10% in a 6 month period.
Another client, this time in the manufacturing industry, reported that Customer Satisfaction indicators had moved from 0* to 3* (Gold Standard) as of May 2019 after having worked with Sewells
So, are you taking customer service seriously enough?  Or are you just kidding yourself?
Give Sewells a call at 01244 681068. We'd love to have a chat about how we can help you find new customers and retain your existing ones in order to transform your business.