As we all face the difficult challenges of responding to the coronavirus our thoughts go out to the people directly affected. We send heartfelt thanks to the health care professionals and volunteers and others around the world working flat out to contain these unprecedented circumstances.
We, at Sewells, are totally committed to keeping people positive during these trying times – and keeping businesses going in order to thrive when the storm has passed.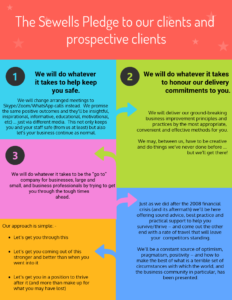 (click on the image to enlarge)
Let's (please) keep the communication channels wide open between us …
Let's get through this by all working together.