In this week's issue:
Becoming a great leader to come out of the Covid-19 crisis stronger than when you went in
The principal role of a leader in business today has to be to authentically win the hearts and minds of their people – so that those people willingly change their behaviour and performance and that they, and the organisation they work for, come out of the Covid-19 crisis stronger than they went in to it – and to make sure that everyone is pulling in the same direction.
But how many managers, who are also supposed to be leaders, actually know how to do this effectively?
It's simple to manage people and situations quite well … and lead them and the business POORLY!
You can have all the management ability in the world to get people to grind out acceptable results … but it doesn't make you a great leader.
So, where does it start?
Leadership is like building a house … you've got to start with a rock-solid foundation! For leaders, this is all about knowing how to ignite a passion and urgency in people to make the positive changes required – individually and as a team – to achieve the goals and objectives you've set.
Managers who have great technical ability often don't have the skills to care for their people; they aren't collaborative, can't communicate effectively, and allow their ego and desire for control to overshadow their humility. So they may be intelligent .. but they're not very bright, are they?
The quickest way to develop that vital foundation for leadership is to start with the fundamentals.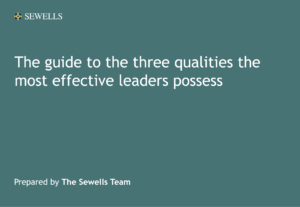 (click on the the image to download the guide)
It's dangerous to build the walls, put up support beams, or tile the roof of a house until you lay down solid foundations!
It works exactly the same way with 'building' a brilliant leader – and we've got our world-renowned leadership development event coming up to help create those critical foundations in double-quick time! The event creates life-changing transformations in leadership skills with everyone, every time!
Click here to read about "Working Miracles … with Performance™", our signature masterclass for new or established business leaders, run by the Chairman of Sewells and author of 'the guide', Dr William Holden.
If you're ready to become a brilliant leader and create business bounceback breakthroughs like these …
Manufacturing – Productivity improvements of 24.1% from previous year
Quality – Reduction of 84.6% in "defects" from previous year
Sales – Volume increase of 23% from a single order
Profits – Year 1: up 29%, Year 2: up 36%, Year 3: up 43%
Customer Loyalty – From bottom 10% to top 3 in 6 months
Employee Engagement – 17% increase (from 75% to 92%) in 12 months
… then start getting the best out of yourself and your teams by attending the "Working Miracles … with Performance™" workshop on 18th & 19th November 2020.
Give yourself, or someone you know, the best bounceback opportunity available.
Fill out the "Working Miracles … with Performance™" enquiry form now and book your place(s) on 18th & 19th November 2020 and qualify for our special Early Bird Price of £1,185 + VAT per person (40% off the standard rate)! Please remember to quote WMNOV2020 (valid only until 30 October 2020)