During our "enforced hibernation" since March due to the impact of Covid-19, we've been busy keeping close to our clients to understand what they, as individuals, teams and organisations want and need to be the best they can be in these challenging and uncertain times.
With the economy bouncing back – albeit slowly – and a sort of "new reality" emerging – as unpredictable and unsatisfactory as it may be – it is what it is.
It emerged that the economy grew by 2.1% in August, which means the economy is still 9.2% smaller than before the pandemic struck.
As Napoleon said, "A leader's role is to face reality and deal in hope". So, as a global thought leader for over 56 years, here's some hope – the economy is still 90.8% intact!
That's not saying it isn't a terrible situation for some sectors – hospitality and airlines in particular – but even for them what they want and need is the same as for everyone else.
We, at Sewells, have summed up what individuals, teams and organisations want and need in one word:
BOUNCEBACKABILITY
This is being able to respond and adapt well in the face of adversity, trauma, tragedy, setbacks, threats or significant sources of threat. It's the capacity to recover quickly from difficult situations and experiences.
BOUNCEBACKABILITY looks to take centre stage in the business world from today. That's why we, at Sewells, have put it at the core of all our business improvement programmes.
We're at the leading edge of helping businesses bounce back strongly. We've been doing it since 1964!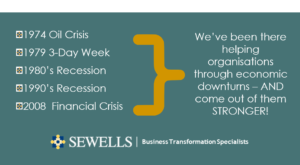 The good news is … we're still here .. and still working our BOUNCEBACKABILITY magic with revamped, refreshed and reinvigorated programmes relevant for these current challenging and uncertain times.
Our specialisms are creating breathtaking performance results through: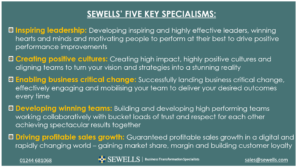 (Click on the image to enlarge)
Any BOUNCEBACKABILITY programme from Sewells gives you and your people what you tell us you and your people need most just now – passion, determination, a positive "can do" attitude, grit, resilience, zest, energy, enthusiasm, confidence and all the skills needed to succeed in a way you never thought possible.
Our BOUNCEBACKABILITY programmes and solutions work:
TURNOVER: a client in the financial services sector reported an increase in turnover from £87M to £148M – increase of 68%
PERFORMANCE TARGETS: After 4 years of hitting a 'glass ceiling' for targets, a company in the manufacturing sector reported a12% increase, smashing through the target
PRODUCTIVITY: a blue chip engineering company reported a huge increase in productivity of 164% in just 18 months
You can't afford to wait to 'bounce back'. The time to do something about it is NOW! We are having zoom calls, telephone calls or even face to face – the choice is yours. Let's help you to bounce back because as we've said you couldn't be in safer hands (sterilized ones at that!).