There is just one question you need to ask to help you understand why your business is not growing or improving like it should.
It's a 'killer question' … one Sewells has used for most of the 57 years that we've been helping businesses successfully transform performance and bottom line results.
Once we've got the answer to that killer question, we can then work on turbo-charging your business growth:

( click here to enlarge)
The one killer question that produces explosive growth is ….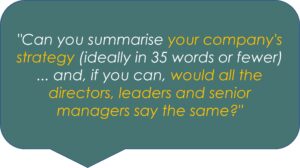 We find very few leaders or managers can honestly answer this question affirmatively or consistently.
The consequences?
They fail to effectively execute their part of the strategy and struggle to achieve their objectives.
We find that an astonishing number of organisations have no clarity around direction and strategy – although they think there is! They wonder why decision making is slow, creative problem solving is virtually non existent and very little accountability or responsibility is displayed.
*** SPECIAL OFFER! SPECIAL OFFER! SPECIAL OFFER! ***
To help, we're offering a Strategy Health Check at no cost to yourselves! This could be the most profitable decision you could make for your business as we approach 2022 with all the challenges the post pandemic business reality will throw at us.   We're offering this free Strategy Health Check to only the first ten eligible companies to apply. Successful companies will be notified by 5pm on Wednesday 13th October 2021. Please complete the form below.
[gravityform id="19″ title="true" description="true"]