"Going through tough times doesn't give you character … it REVEALS your character … especially your leadership character."
With the Coronavirus crisis hitting us all harder, deeper – and probably longer – than we hoped it would, as leaders of businesses and teams, we have to demonstrate the "best of the best" when it comes to leadership skills.
In our previous "help sheet emails" (which you can review here and here), we've covered cash, communication, customers and clarity – it's now time for what it takes to be a proper leader in the uncharted waters we see ourselves in.
Let's just sort something out first … it's not expected that overnight you're going to become a Winston Churchill or a Mahatma Ghandi. We need to do the best we can – and get the balance right between that and doing what's needed for the business, our people and our communities.
One other thing, this is an opportunity for anyone to lead from any chair they occupy in the organisation. So here's some help and advice ….. click on the images below to find out more.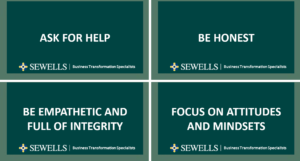 We're going to stop here for now, there's a lot more to consider from a leadership skills viewpoint – and we don't want to overload you!
If you require any further clarification on the above, or any help or support at all, please contact us on 01244 681068 or tellmemore@sewells.com and we'll help you in any way we can.
Let's help you through this and come out of it stronger