We hope this finds you, your family and your people safe and well – and we hope it stays that way!
Thank you for all the positive comments we've received from you, our clients and prospective clients, about the usefulness of the help and advice in our help sheet last week (click here to review)
Please find below our second help sheet – although the first one may need to be revisited as within a week the world has changed again
This looks like going on for a lot longer than originally forecast, and for the impact to be much greater. So, re-visiting the cash and communication areas may be a necessity.
In help sheet number 2, practical insights into the importance of customers and clarity are offered … and should you wish to discuss them with us … we're always happy to help.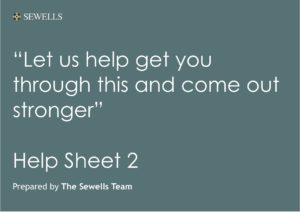 (Click above image to download)
As the seriousness of this crisis begins to saturate our consciousness there's also a dawning realisation that when we get through this the world may never be the same again – and for the better.
This is time to lead with purpose … and humanity
Yours sincerely
The Sewells Team
p.s. Are you finding these help sheets useful? And, if so, what should we be covering to help you most? Please let us know.