We, at Sewells, have found that the good, highly effective "timeless" selling skills are becoming more and more difficult to find … even more so now we're going more and more down the "remote" and "virtual" route!
When salespeople take the tired and outdated approaches in striving to sell successfully, many of the most important aspects of the sales process are neglected, and the desired outcomes (i.e. the sale, making a lifelong friend, adding value, getting referrals, etc.) become increasingly more difficult to achieve.
There are seven key principles which emphasise those important facets of the sales process and will create significant improvements in bottom line results, customer retention, customer satisfaction and referrals.
They focus on value instead of price, make the customer the centre of attention rather than the 'latest offer' and build value for the customer at every stage of the sales process.
The Seven Key Principles of Successful Sales are explained here – simply click on the image below to download.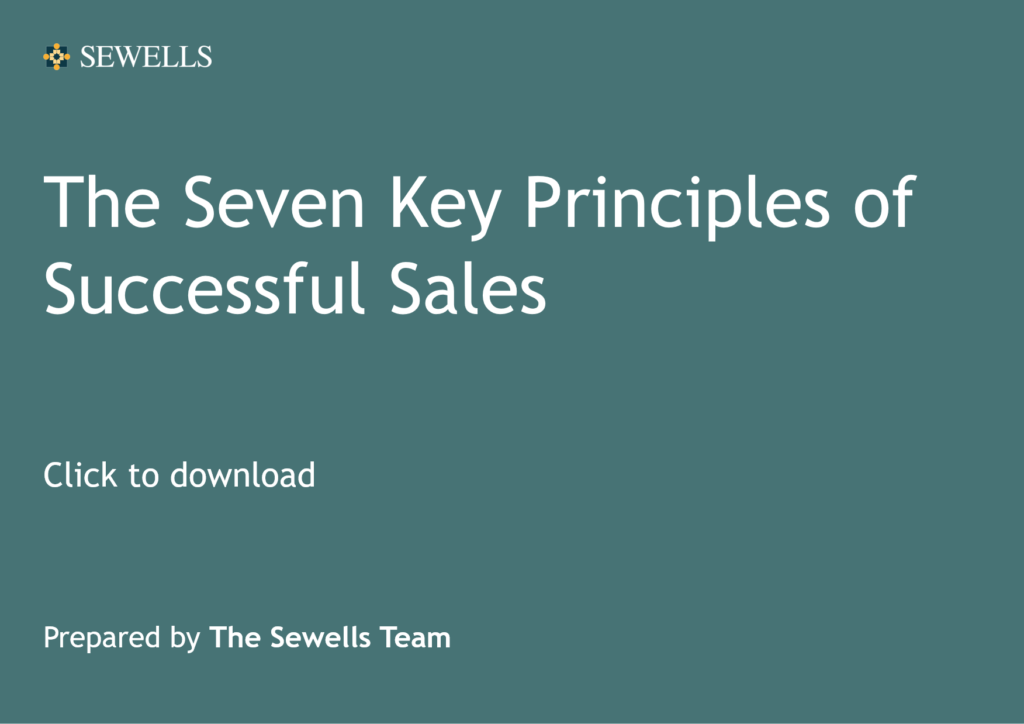 Does This Approach Work?
Well, let's look at some figures from previous work we've done with our clients:-
Example 1: 355 person division within a manufacturing company:
17.5% increased profits in 6 months (ahead of budget)
Increased market share
On target growth
Inspired idea generation
Example 2: 230 person transport company:
Profits up 64% in one year
Example 3: 10,154 person retailing organisation:
Sales up from £2.1 billion to £6.9 billion in two years
Profits up from £226 million to £955 million in three years
Share price up from £26 to £148 per share
Yes, … the Sewells approach does work … so what are you waiting for?
The sales improvement you need and want is waiting for you… with our help. To achieve success in growing sales, please get in touch with us right away so you can start seeing the benefits in 2021 instead of waiting for 2022!