The driving force behind your business recovery in 2022 will probably be your sales team, but are you confident they know how to sell properly in this much changed, post-pandemic world?
Like you, we've seen and heard about some sales techniques which reek of desperation, with people far too quick to blame the current economic environment for sales targets not being achieved.
The truth is … the opportunity has never been greater, if your salespeople know 'how'.
If your current sales training provider is telling you you're not getting the results you need and want because of this, they're not being totally honest with you!
In the last 18 months, Sewells has helped organisations dramatically increase their sales figures and margins …and smash targets, despite the challenging, uncertain or tough market conditions.
We've done this through seven very simple principles and practices. There's nothing mystical or secretive about them, which is why we're willing to share them with you for free!
So let's remind ourselves of the principles and practices that make up the lost art of selling. Principles that focus on value, not price; that put the customer at the centre of the process, not the 'latest offer'.
Click here, or on the button below to download your FREE copy of "The Seven Principles of Successful Profitable Sales Growth"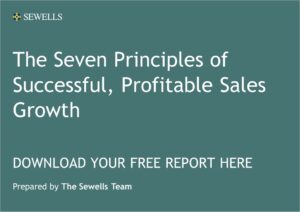 (Click on the image to download file)
At Sewells, we can help you put these principles into practice and smash your sales targets … we put our money where our mouth is: If you haven't exceeded your pre-agreed sales objectives, as a result of attending a Sewells programme, we will refund 100% of your money!
So, as the old saying goes: "You really don't have anything to lose" … and you don't!
To re-discover your lost art of selling (or maybe discover it for the first time) call us now on 01244 681068 to start your journey to success for the rest of 2022.