We had an interesting discussion the other day with the Sales Director of a large, well known global brand.
The company is renowned for launching new products into a competitive marketplace but some of their recent product launches have produced much poorer results than expected. The Sales Director blamed BREXIT, exchange rates, Thomas Cook collapsing, the end of PPI claims etc…
The Sales Director's solution to the problem was to deliver better product knowledge workshops. "Product knowledge is what it's all about … it is the key factor!"
We suggested that all our experience shows that building a genuine relationship with a prospect, qualifying them and discovering their unique buying motives was MUCH MORE IMPORTANT than product knowledge (which is still important by the way).
She was confused and she asked us to explain what we meant.  We explained that our research shows most companies spend days and weeks on product knowledge training… and almost no time teaching their employees how to sell. The result is a knowledgeable sales team that can list features and benefits  –  which creates a lot of conversations and not enough sales.
"You're right," she agreed, "our sales activity increases with new product launches, but our sales productivity decreases. What should our sales people be doing?"
We handed her an empty coffee cup and asked, "How would your team go about selling me this?"
She thought about it for a while and then … you guessed it … launched into list of features and benefits about the cup: she went on and on … and eventually she ran out of things to say!
She then apologetically asked us,  "Would you like to buy it?" We replied, "We'd like to think about it" and followed that up by asking, "What if I don't even like cups, and prefer mugs?"
She was stumped!
The point was made … most sales people lead with a monologue on the features and benefits of the product, in the hope that if they throw enough at the prospect, they'll say "yes".
Does that sound familiar? Of course it does.
At Sewells, our sales philosophy, is …
SELL THE PROBLEM YOU SOLVE, NOT THE PRODUCT
The Sales Director then asked, "So, what is the proper way to sell a coffee cup?"
We replied, "The proper way to sell anything is to first qualify the need and identify the unique buying motives … THEN … match up those needs to the appropriate features and benefits to fit those needs."
It begins like this …
"How do you use coffee cups in your facilities?"
"How many cups do you go through in a month/year?"
"What percentage of that is a) breakages? b) shrinkage?"
"What's most important to you in your coffee cups?"
"If you were to change anything about the cups, the delivery, storage etc … what would it be? etc … etc …
This starts a meaningful dialogue that genuine buyers love … because it's about THEM, not your product.
Do the Sewells Dialogue/Relationship based sales processes and techniques work? You bet!
An organisation in the automotive industry saw their best sales and profit results for 22 years – with no new products coming to market after their work with us
Another organisation in the financial services industry saw sales rise by 27% this YTD … on top of a record year the previous year
Also, after working with an organisation in the oil and gas industry, we helped them accelerate sales productivity by 52% and profitability by 68% – in a flat and crowded market
If you'd like a confidential discussion about how we can get your team set for a terrific end to 2019 – and a flying start to 2020 – then contact us now on 01244 681068 or email us… it will be the most profitable action you've taken in years!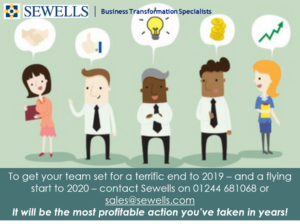 We'll be continuing the sales theme in our blog next week, "The Seven Principles of Successful Sales". These seven principles emphasise some important facets of the sales process which so often are overlooked. Look out for our post on social media next Thursday. Subscribers to our mailing list will get the details first … so if you're not already on our mailing list, and would like to receive weekly articles from Sewells, please just click here to sign up.