The key to successfully embedding change? It's all about LEADERSHIP.
It takes a whole team of people to create a great company – one that is nimble, adept at making necessary changes, exceeding objectives and one that leaves its competitors standing.
However, it only takes a few managers who are poor at successfully managing those business-critical changes into the business, before you run the risk of taking the whole company down the pan.
Often changes are desperately needed, but because the managers don't know how to embed them successfully … they try and force the changes on their people … and the changes never take root.
The outcomes to this approach are lower productivity, reduced morale, higher stress levels and disillusionment, higher employee turnover … and a great deal of time and money being wasted.
Some of the managers don't even know how to put in place the most basic fundamental building blocks to successfully implement and embed change. Without these, everything else you do will fall apart.
However it's not really their fault – they've just never been shown what the fundamental building blocks are – and how simple they are to apply.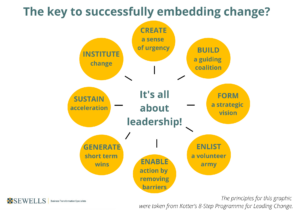 Sewells would like to share with you their insights into how to turn good managers into highly effective and inspirational leaders who can drive successful change by getting everyone 'on board' … and to improve performance and transform results in double-quick time.
First check out Episode 3 of our Sherpa video series through the eyes of one of our customers on the very topic of Enabling Business Critical Change
Next, read our Case Studies for some examples of how we've enabled positive change with companies just like yours
Now let's talk business transformation  and we'll show you how we make a positive and significant difference to all our clients' business performance and results