When we, at Sewells, as part of our world renowned business improvement programmes ask senior leaders what changes they'd like to see as outcomes, it's often, "for our managers to be more accountable and responsible for their results".
There is a huge problem with linking those two things together … because, philosophically and practically, they are worlds apart.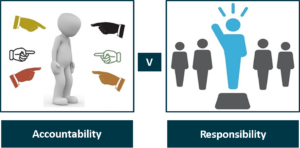 Accountability is done to managers. It's done by the organisational system, by those who want to create blame and point the finger. It's negative and adversarial and inhibits change. Managers – and the organisation as a whole – can't win!
Responsibility is chosen by managers. It's completely voluntary by those who want to make a difference. It's positive and powerful beyond belief in moving the performance dials in the right direction. Managers – and the organisation as a whole – can't lose!
The problem is … most organisations think it's a lot easier / simpler / more cost effective to create "accountability" rather than "responsibility" in their managers.
Nothing could be further from the truth.
Sewells can help you create a culture of "responsibility" and make your results go ballistic!
You'd be in good company – click on the Successes page to find out how we continue to help our clients achieve results the likes of which they'd only previously dreamed about.
We can do the same for you, so you might want to contact Sewells today … before your competitors do!