In January 2008, we won a contract with a new client to deliver a sales and sales management programme for 60 sales people and 10 sales managers.
In February 2008, we lost out to a "competitor" to deliver a similar size sales and sales management programme for another new client.
Apparently, they were offering "more or less the same", but at a much lower price …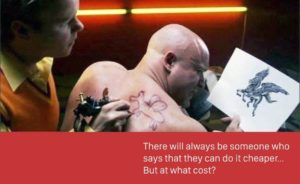 The content of the workshops was similar (after all, the sales process is the sales process – the Ten Steps etc. … haven't altered much in decades). The sales techniques have changed slightly – mainly due to the impact of the internet and social media.
… But they weren't offering "more or less the same" …
… Our two approaches couldn't be more different …
Unlike Sewells, the "competitor" could not offer:
In-depth diagnostic interviews with a cross-section of the sales team – and other, related departments. This is to discover what the people involved really think about the way things work, or don't work, now. The biggest barriers to the improvements most businesses want to see are not in process, systems or resources, but in the attitudes and mind-set of the people involved
Work focusing on developing positive attitudes in the team, building trust and belief and an "unstoppable" culture
Regular, "on the job" coaching to ensure the learning is transferred into the workplace – directly or to the P&L – and building brilliant team spirit
Regular, structured review meetings to honestly discuss what's working well – and not so well – to ascertain whether the programme is delivering beyond expectations
The results:-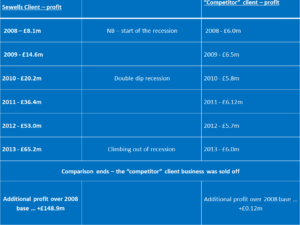 You may know this saying, "Some people know the price of everything … and the value of nothing"
But you'll definitely know this one:
Experto Credite
Trust the one who has proved it (Virgil)
We, at Sewells, have been trusted as experts time and time again with our clients for over 54 years.
If you want your organisation to achieve similar results just get in touch and we'll come and talk you through our tried and tested approach to business transformation … that never fails.