We've positively transformed the working lives of so many people who, at the time, supposedly "hated" their jobs. People who'd become anything from "a bit lost" to operating under a dark cloud of resentment.
We've helped people choose and develop a completely different attitude by following one simple rule: "Don't moan about what you can change."
We can do the same for individuals in your team by helping them focus on the following:
Awareness
To always be the best version of themselves they can be
To be totally self-aware and radiate positivity
To focus on their strengths
To build upon their areas of improvement
To view their own development as a worthwhile investment
Creativity and Innovation
To proactively find ways that make what they do more efficient, effective and innovative
To go beyond hitting their targets, to look at how they can continually go beyond them
To always bring solutions to the table, not problems. (People are much more creative than they think)
Personal Ownership
To make their line manager's job easier by developing a deep sense of personal responsibility, and by owning their jobs, their managers have one less thing to worry about
Once they can be trusted to look after things with minimal intervention, their managers will entrust them with more responsibility – and their performance attracts the promotions that go with it
Leadership
They don't have to wait to be a CEO to start being a great leader… a leadership mindset can be adopted regardless of current position
To be the type of leader they would want to be led by.
Regardless of whether they are responsible for a team of 1, 12 or 50, they should always be that team's champion
To foster a strong support structure, celebrate their peer's successes, encourage healthy competition, and demonstrate how each and every member is integral to the performance of a cohesive team.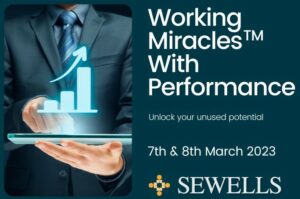 An investment in your business (with the biggest ROI you could ever have)
The product of good leadership is high performance, so seeing people developing their skills as an investment in your business – the people in your team are the ones who produce the improved results, so transforming their performance is the best investment you can make.
Guarantee Results
Having worked closely with thousands of delegates who have attended our world-renowned leadership and professional development workshop, "Working Miracles … with Performance™" (W.M.), Sewells' approach to developing the right attitude and motivating people to give their best, day in day out never fails.
Don't take our word for it, our many past delegates agree …
I wish I had the Sewells W.M. voice in my head permanently reminding me to think like this all the time!
Once or twice in a lifetime, if we're lucky, we have an experience that causes a seismic shift in our professional and personal life. The Sewells W.M. is such an experience…a true inspiration…a revelation.
Really thought provoking and challenged me in a way I hadn't experienced before … I'm already seeing the results of what I've learned!
Take the initiative and secure your place(s) and our very special early bird rate, now for March's two-day workshop (7th & 8th) before they all go!*
Call us now on 01244 681068 or click here to complete the form to register your interest.
We look forward to welcoming you in March.
* Normal price £1,995, Early Bird rate just £995 (until Friday 10th February)