We, at Sewells, don't give corporate executives hell … we just tell them the truth and they sometimes think it's hell .. when, the realty is, it's hope!
Every organisation needs a truth teller. We call them "Yinglings" after a US Army Colonel called Paul Yingling. He loves the Army and yet is not afraid to speak the truth in order to improve the way it functions. For instance:-
"As matters stand now, a private who loses a rifle suffers far greater consequence than a General who loses a war"
"It's unreasonable to expect that an officer who spends 25 years conforming to institutional expectations will emerge as a dynamic innovator in his late 40's"
"Officers conditioned to conformity in peacetime cannot be expected to behave boldly and flexibly in combat. This phenomenon is not new"
Can you see the links to business?
Can you see the links to YOUR business??
The tension leaders face between conformity (compliance and governance) and innovation is something you and your business no doubt wrestle with every day. It shows itself when people in leadership positions do not have a deep sense of personal responsibility or accountability for the performance and results in their part of the business.
Our Leadership Development Programmes tackle this issue head on. That's why we transform the performance of leaders and their teams and produce dramatic improvements in bottom-line results, levels of engagement, morale, customer handling, cost cutting etc …
Let us be your "Yingling," or truth teller, about why leaders aren't leading in the way you want, or need them to, in this challenging and changing marketplace.
The leaders of 2021 need to lead very differently than they did in 2019/2020. They must be able to listen, be approachable, trustworthy, accountable and take ownership in order to make quick and effective decisions.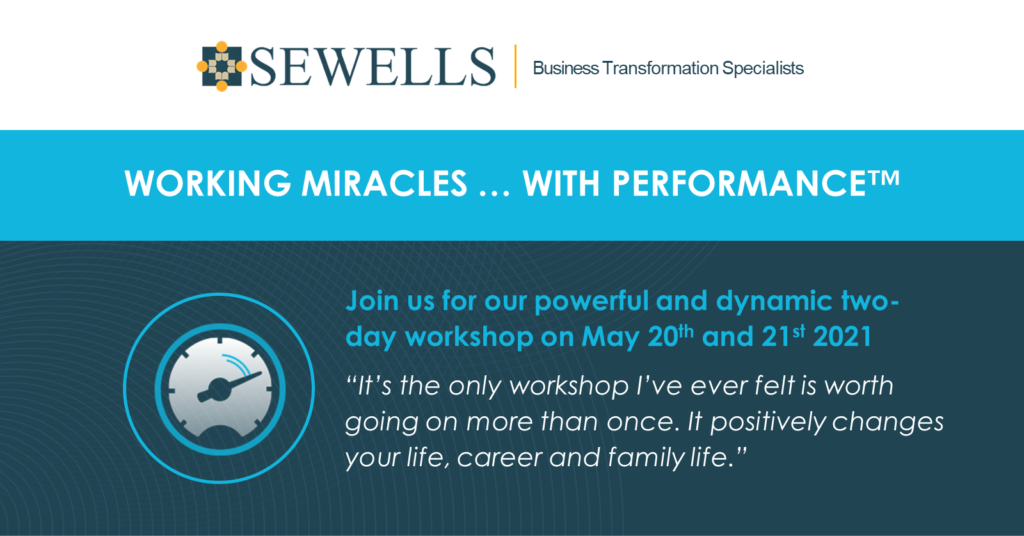 And, one of the best ways to start your journey to becoming an inspirational leader of 2021 instead of a subject expert of the past, is to attend our two-day inspirational workshop, Working Miracles™ with Performance. All the information you need is on this link and in our FAQs.
Why not call us now to find out more whilst you've still got 8 months of 2021 remaining to make a massive difference.