Can you relate and recognise any of these problems in your sales department?
Lack of growth?
Squeezing of margins?
Customer retention/loyalty?
Lack of an effective CRM system?
Crowded and competitive marketplace?
Non-existent sales process?
Retention of salespeople?
No value added?
Price of product or service too high? 
It could be any or all of these – as well as the lack of prospects and leads, poor and inconsistent pipeline, lack of adherence to the sales process or lack of application of the sales techniques.
What do you think are the biggest barriers? They are not in terms of systems, processes, resources, pricing policies, etc…
We're sure you'll be able to relate to some or all of these.
(click on the image below to enlarge and download)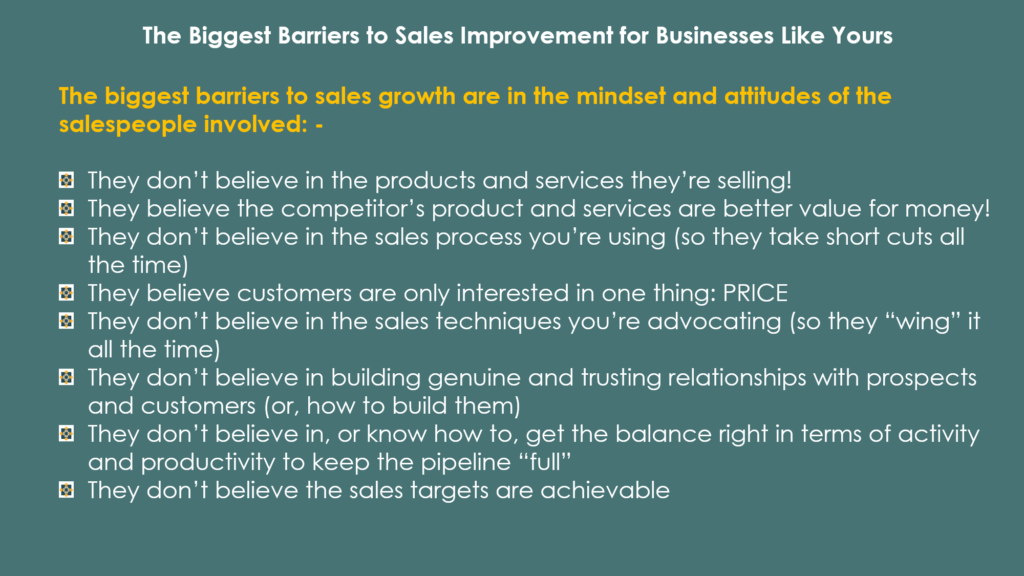 Do you recognise any of those barriers in your sales department?
Sales volumes, margins, activities, customer experiences and loyalty will not improve consistently or sustainably without addressing the mindsets and attitudes of the salespeople first…and the skills / techniques / performance measurement etc second.
No matter what, or how numerous they may be, we have tried and tested solutions for every challenge imaginable.
The results these solutions deliver for our clients are significant:-
Sales volumes up 58% in a market only 3% up (and margins improved by 26%)
A "value-added" product line increased by 252% (in a market up 40%)
A stretching 5-year plan achieved in 23 months
Our tried and tested approach always delivers amazing improvements in performance and results because the difference with Sewells is we address the biggest barriers that prevent sales optimisation: the mindset and the attitude of the sales people involved.
Let us help you to supercharge every aspect of your sales performance.