Achieving – or exceeding – stretching sales targets (whilst maintaining gross profit) seems to be beyond most organisations these days. Most sales managers and salespeople blame the internet, the product offering or the price.
However, the reason for this state of affairs couldn't be any simpler, but organisations are looking in the wrong places to fix the problem: "We need better negotiation skills", "we need better objection handling techniques", "we need better ways of closing the deal".
As we said in last week's inspirational email, the solution is not at the back end of the sales process, but at the front end. Closing the sale is relatively simple … it's opening the relationship in the first place that is the tough bit.
This is the #1 reason sales objectives are missed, no proper prospecting and no proper, genuine "meet and greet" to make your prospective customer feel welcomed, valued and appreciated with the certainty that they will find the best value for money solution for their precise needs.
Did you look around your organisation last week to see how many sales breakers you had as opposed to sales makers?
We never, in the last 30 years, worked with an organisation struggling to hit the sales numbers where you couldn't draw a straight line for a miss on the numbers to a miss in the prospecting and the "meet and greet" and "qualification" of a prospective customer.
Knowing how to attract prospects across multiple channels – and having salespeople with the confidence and skills to get prospective customers top like and trust them in double quick time is the key to profitable and sustainable sales growth.   
Why not invite us in to conduct a Sales health–check on your entire sales processes and techniques to show you what you might be missing?
As a CEO recently said to us, "The improvement in sales has been "like magic" – after years of flat-lining we've had a 25% uplift in sales, and the margin has increased".
What have you got to lose by contacting us now? Call us on 01244 681 068 or email tellmemore@sewells.com …  you'll be really glad you did.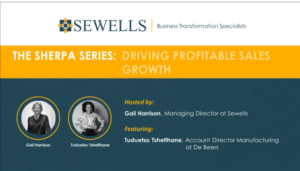 Click here to watch the video of the "Driving Profitable Sales Growth" episode in our Sherpas Series, or here to listen to the podcast.