The key to any organisation speedily attaining the performance and results it wants to see as the Covid-19 crisis passes, is in its people exhibiting the right behaviours.
Behaviours are, very simply, what people are saying and doing.
If they're saying and doing the right things, in the right way, your bounce back will be rapid and sustainable.
If they're not you'll struggle.
Research shows that one of the biggest – if not THE biggest – factor that drives a human being's behaviour is their ATTITUDE.
The best definition of an attitude is "an individual's chosen response to a given set of circumstances". There is raw power in understanding – and applying – this in the real world, on a number of levels:-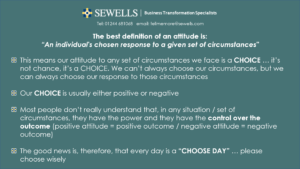 (click image to enlarge)
"Attitude is the difference between an ordeal and an adventure" (author unknown)
When the time is right … and you're wanting a strong and sustainable recovery … the Sewells Team will be available to give you all the biggest dollop of developing a positive attitude imaginable.
Trust Virgil's advice … Experto Credite … Trust The One Who Has Proved It (again and again and again!)