We're doing something different this week / month.
Normally, on the last Wednesday of the month, we publish a digest of the insightful, inspirational and practical emails we've sent in the month.
This month, however, our 30th year anniversary since Dr Will Holden took over the running of Sewells (9th July), we asked Will to provide some detail of what are now the key elements of the Sewells philosophy that has transformed the company to the global leader in making positive change happen in any part of any organisation.
We've already published three – and there's one left – we thought it would be a good idea to publish / post all four in sequence and post the digest next Wednesday.
The fourth and final part of our philosophy has probably been the most valuable for our clients. It has saved, or made them, hundreds of millions in extra profit and created unstoppable, dynamic and sustainably positive cultures.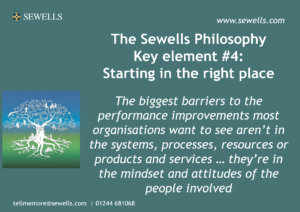 (click on image to enlarge)
From Will's ten years as a senior leader with Pat Ryan and Associates (which eventually morphed into the AON Corporation), he learned and mastered a huge amount of practical and workable insights into human behaviour. The biggest barriers to the performance improvements most organisations want to see are not in terms of systems, processes, resources or new products and services … they're in the mindset and attitudes of the people involved.
A client can, and often does, have the best systems, perfectly adequate processes etc … but their people's attitude and mindset is, "Here we go gain, another stupid idea that won't work" or, "Not more changes – it'll be like all the others, it'll be flavour of the month and then something new and another change will be introduced and this will be abandoned."
A huge part of our philosophical and practical base is that business change requirements happen quickly, habits change slowly, and human nature never changes.
We, in Sewells, have found over the years that trying to get people to adapt and apply new skills or embrace new, business critical changes without getting the mindsets and attitudes right first is almost a complete waste of time and money.
That's why, before we complete any programme with our clients, we complete in-depth diagnostic interviews with a cross section of the people involved in any business improvement initiative. Conducted in a structured, strictly private & confidential basis, the insights gained are priceless and totally ensure we know the true starting point for any work.
For instance, one company requested a vision and values based culture change programme. They already had a vision, so a "light touch" was what they thought they needed.
Our diagnostics with 30 senior managers showed that only 26% of them knew what the "vision" actually was – and fewer than 10% knew what it meant in practice!
Even worse, they were just about to start on a new, 5 year strategic plan to transform the business but our analysis showed that of the 5 key strategic pillars, only one manager got one strategy right!! (Even though they'd all attended at least four strategic communications briefings / sessions.)
Another client we worked with made the comment, "We thought we had 'all our ducks in a row' and knew what was required within the development programme. We couldn't have been more wrong!"
The importance of this fourth philosophy (Starting in the right place) can not be over emphasised in helping us to become the "go to" company for making positive changes happen in any part of any organisation.
We hope you've enjoyed this anniversary series of posts detailing what is now the personality and philosophy of Sewells.
We will continue to build, refine and improve what we do, and the way we do it in the future in order for our clients' outcomes to be exceeded every single time we work together.
We look forward to continuing to be of service in the future.