"We haven't changed anything … we just have a different attitude."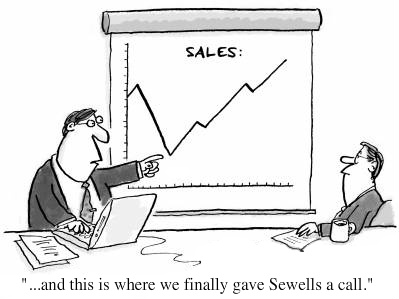 "We had a person who, as far as we were concerned, was a very expensive member of staff brought in specifically to do a job. The recruitment people talked of a fabulous character on his behalf; a career record suggested he would glow in the dark.
He turned out to be the opposite and we are still paying the financial cost.
If we hadn't gone through the Sewells process, we probably would have ended up with different people. I think that our attitude toward recruitment has changed.
(With our employees) there is more self-empowerment, there is more confidence, there is more belief.
We are back to the belief that we are going to get the sale.
I am very, very happy with our corporate growth, a lot of which you have to say is down to the attitude of our people. We are in a position where we are selling product faster than we can make it.
We haven't changed anything, we have no more equipment. We just have a different attitude." – a recent Sewells client
Sometimes, a manager who produces good results can have few or no people management skills. This is never a sustainable way of building or growing a business because, in the long run, it costs time and money in an unending cycle of people leaving, re-hiring and training.
And as you can see, Sewells' results speak for themselves! Our client was so pleased with the work and results we've achieved together – we'd love to do the same for you.
Contact us now to see what potential we can unlock in your business.