Well, we've come to the end of the Sewells TOSITA series of videos and mailers.  (Click on the links to catch up if you've missed any)
We hope we've helped you with some practical insights on how to get through the last weeks of Lockdown 3 and helped you come out of it stronger – and more positive!
The responses we've had have been nothing short of phenomenal … The Other Shot In The Arm series seems to have done the trick for so many.
We, at Sewells, thought it would be fitting to say a big "thank you" for your support and encouragement.
We also thought a prize draw would be a nice / great way to end.
So, TWO FREE PLACES on the next "Working Miracles … with Performance™" two day workshop are on offer!
This will be held on 19th and 20th May at Rowton Hall in Cheshire with full Covid safety protocols in place. If you want a few more details on the workshop click here to download some FAQ's, or contact us if you need more information.
All you need to do to put your name forward is to click anywhere in the image below to open up the prize draw entry form – and, as an option, write a few words on how the Sewells TOSITA series helped you.
The draw will be made on 30th April 2021.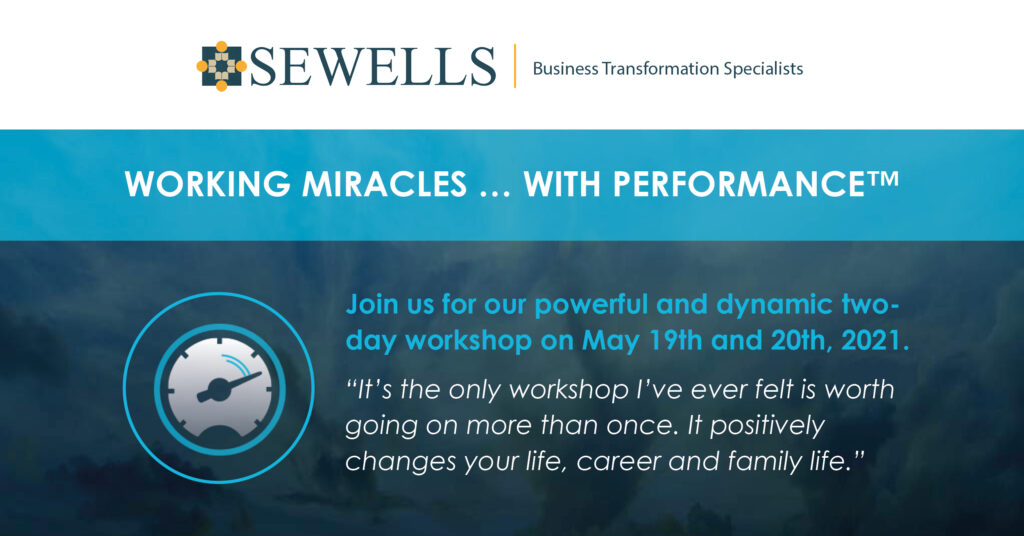 Once again, thank you for your participation and encouragement.
Stay safe … be brilliant … and at your best, always.
And remember: IF IT IS TO BE, IT IS UP TO ME.  You make all the difference, you have the power and you have the control.
We look forward to seeing you on Working Miracles … with Performance™ on 19th & 20th May.